BSNL HRMS ERP : Employee self service Login Portal now available to check pay / Salary Slip , leaves, claim, travel and expenses Details etc.
Bharat Sanchar Nigam Limited BSNL Human Resource as the most prized assets of the organization, to continually hone employee skills, enhance their knowledge and their expertise and their aspirations to fruition. Even as BSNL goes about conducting its business activities, it lays emphasis on constant enhancement of knowledge and skills through regular training programmes.
Organization : Bharat Sanchar Nigam Ltd
Type of Facility : BSNL Employee's Salary Slip Online
Country : India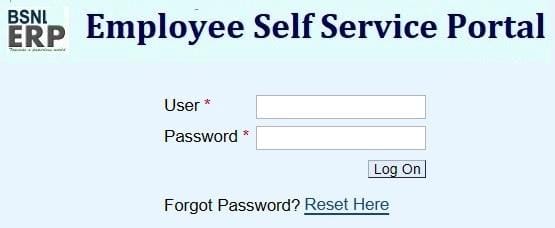 Depends on our staff who provide services to our valued customers, technological challenges, employees are trained for technology up-gradation, modernization, computerization etc.
BSNL HRMS ERP Login Online Details:
Employee login to the SAP ERP ESS portal of BSNL employee on the HRMS login portal : http://eportal.erp.bsnl.co.in/irj/portal
Here it appears login page , now the user needs to provide their HRMS number which should include 8-digit number and should ignore the 1st digit
Now the user needs to provide the password to the portal to login to the BSNL ERP portal, and One should keep the password safe and not share with anyone.
Password for the first time is the date of birth (ddmmyyyy). or Password can be reset by employee using Forgot password ? on login page.
Here employee needs to click on the Employee Self-service, and this will open a page where the user can check various options pertaining to his personal account which includes pay, leaves, claim, travel and expenses etc.
After this the Employee needs to click on the pay information tab to check information such as salary statement, salary summary, EPF details etc.
and also click on salary statement, One needs to select the month for which you need to download, and after selecting the specific month, the user needs to click on Submit.
Benifits :
User has to change the password on first time login or after reset.
The staff data shown in the portal is what is filled by the Unit/SSA Administrator.
You may contact SSA/Unit Admin for any decrepancies in HR data.
The Pay data is as per filled by the DDO.
Salary Slip, GPF Ledger, etc will be dependent on the Pay process status of DDO.
Please contact your System Administrator in case of problems in login.
Qualification at the time of Appointment : Requisite qualification as per the eligibility terms and conditions of initial recruitment.
Other Qualification : Any other important qualification acquired before or after appointment.
For more details visit BSNL HRMS ERP official website :
https://erpportal.bsnl.co.in/irj/portal
https://www.bsnl.co.in