UCO HRMS login at hrms.ucoonline.in/login.action – UCO bank Login to check Employee Salary Slip, Pf/ Pension Details – Forgot password how to Reset process…
UCO HRMS for employee's talking about  UCO United Commercial Bank is a commercial bank and a Government of India Undertaking.
Its Board of Directors consists of government representatives from the Government of India and Reserve Bank of India as well as eminent professionals like accountants, management experts, economists, businessmen, etc.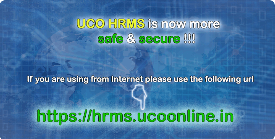 Organization : UCO Bank Login
Service Name : UCO HRMS employee portal
UCO HRMS Website : https://hrms.ucoonline.in/login.action
New employees must log in details in UCO HRMS. That means you need to provide your full information, fill your name, employee number, email id and finally mobile number. You have to submit a form to the officer with the approval from the relevant manager.
When employees and pensioners use UCO HRMS new URL, go to the site https://hrms.ucoonline.in/login.action.
They need to create a password that the site can access. The password must be kept secret. You can forgot your password and reset it.
UCO HRMS Login – Employee Salary Slip :
First visit official site : https://hrms.ucoonline.in/login.action
enter employee ID and password.
Click On login.
at once click the button, your in UCO HRMS employee portal.
What are the services offered in the UCO HRMS?
Your profile details
Pension details
Employees salary slips.
Provident Fund Information
Details of loans
Details about holiday days
And also Predictions Etc ..
If employees change their emails and phone numbers, it is good to correct them. This system needs to know about new details to be updated. And when employees change their details You can provide information to your bank manager if there is any change in that , They will accept new changes.
Once the access form gets approved, you can log in to the HRMS with the User ID, and Password received from the bank. If you in case forgot the password, click on forgot the password.
UCO HRMS Password Reset/ Forgot:
1. OTP based self-password reset facility is available through URL http://hrms.ucoonline.in
2. Enter your employee no and click on forgot password –> enter the OTP and click on submit –> after
validation, you can set your password.
3. Please enter employee id then click on forgot password.
4. After OTP (One Time Password) will be send to your Registered Mobile Number.
5. After enter New Password. Click on Change Password Button.
6. if your mobile number is not register, and email your employee no, name, mobile no. to hodit.hrms@ucobank.co.in.
Finally you can Change your password….
For more details, visit official website of  UCO HRMS or UCO Bank Login : https://hrms.ucoonline.in/