UCOebanking : UCO Bank Net banking Registration First Time login online at www.ucoebanking.com
UCO Bank Consequently, any information supplied to the user through UCO Bank net Banking will pertain to the date and time when it was last updated and not as the date and time when it is supplied to the user. user would be allotted an UCO Internet Banking user-id and a set of secret passwords by UCO Bank in the first instance. The user will be required to change the password assigned by UCO Bank on accessing Internet Banking for the first time.
UCO Bank Net banking Online Registration procedure:
visit official website : https://www.ucoebanking.com
1. Kindly download the application form, fill up the necessary details and mandatory details like email.id, your date of birth and other relevant information in that application form and submit it to your branch. Alternatively you may call on at any of our branch, and our staff will assist you.
2. You will need to choose one of it like e-BANKING or m-banking, fill and submit it along with the account opening form and submission bank processes your form .
3. After a week you will get login ID and password from Bank.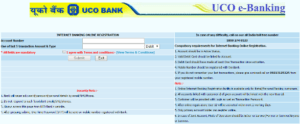 By using Login ID Access UCO Bank internet Banking Online Registration :
visit official website : https://www.ucoebanking.com
1. Click on "New Registration".
2. Enter account number ,select your credit or debit card recent transaction amount type.
3. Select "I Agree", and submit.
4. Already Mobile number should be Registered with the bank. you have received OTP on your registered mobile number and click on "Confirm".
5. After Conformation, enter your debit card number, pin and expiry date to submit it.
6. Successfully Register in UCO bank net banking process.
for more details visit official website of UCOebanking : https://www.ucoebanking.com.
contact toll free number : 1800 274 0123.